Last weekend we decided to take a break from counting your scrobbles and spend our time playing a bit of football instead. It was a chance to swap our football table for a football pitch and take on a few other music related entities at the 6th annual Big Scary Monsters 5-a-side tournament. I was suffering from a hurty knee, but went along to inspire the team Coach Taylor style. "CLEAR EYES, FULL HEARTS!"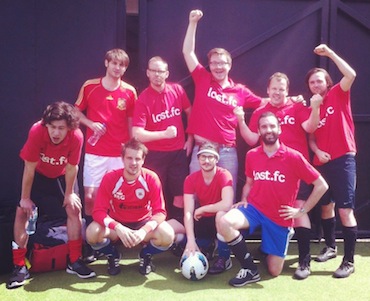 There were 24 teams competing, first in a group then a knockout stage. Last year we went out in the group stage, but felt we'd had a tough group and were eager to prove we could do better this time. However, not even me shouting "man on", "down the line", or "well played, that's liquid" could stop us losing our first game to a fantastic Abeano 7-0. Not a great start, but we followed it with a 2-2 draw against Fanzine about Rocking and then two wins against The Xcerts and Hassle, both 2-1, mainly thanks to the amazing Dan "The Cat" Sleath in goal. Our final group game was against our old friends Drowned in Sound. We'd lost to them at last year's tournament and were outplayed in a friendly we'd arranged in the meantime, but neither team could break the deadlock and the game ended goalless.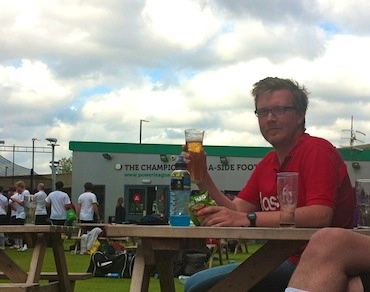 This all meant we were through to the knockout stage where in round 1 we were up against Punktastic, which we'd heard were "pretty handy". Both teams were tired, but another two late goals from Last.fm meant we were through to play Tall Ships in the quarter-finals. It was another tough game, but a clean sheet and a last minute goal amazingly put us through to the semi-finals. Something none of us really believed was possible at the start of the day.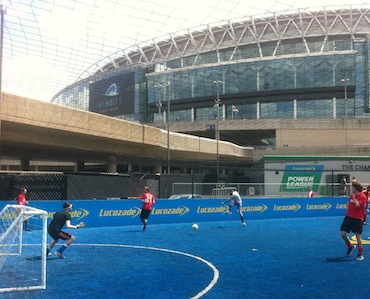 We were on a high, dreaming of an open top bus tour of the "Shoreditch Triangle" upon our return, but next up were last year's champions, Old Blue Last. It was clear straight away that these guys had played football before and not even our star goalkeeper could stop the onslaught. The dream was over, but we felt the 4-0 scoreline was respectable against a team of such quality.
Finally, Old Blue Last beat Abeano 2-0 in a rather exciting and closely fought final. We took solace in the fact these were the only teams we'd lost against, claimed third place having beaten the other semi-final loser, and went home looking forward to next year after a great time was had by all.