About 6 weeks ago I started a short internship at Last.fm. For my project I wanted to explore Last.fm's data to learn how listening preferences vary with the listener's age and gender. Apart from the science, the most important thing I found is that you can make awesome plots with this information.
I started by making a chart to show what kind of music you "should" be listening to if you really want to fit in with the most common artists in your age range and gender: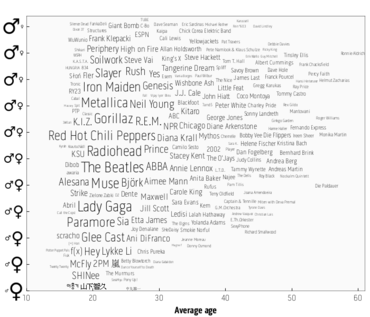 The sizes of the artists' names indicate how popular they are, while their position shows the gender mix and average age of their listeners. Based on the positions of the larger names, it's already obvious which age category is most common amongst Last.fm users.
So, you can now use this plot to decide which music you might want to listen to. For example, if you are a healthy young male in your early twenties, you probably should listen to bands such as Iron Maiden and Metallica. Gorillaz and Radiohead might just be acceptable. If you get older you can then switch to artists like Neil Young and Genesis. It's all quite obvious really.
Of course, when I realized what nice plots I could make, I tried it on several other types of data as well. Tags for example: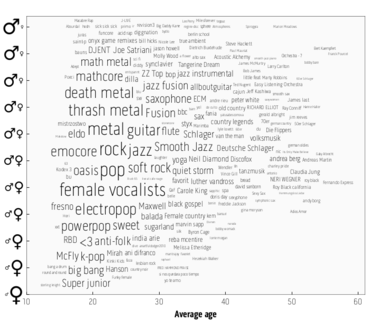 You can use it in the same way as the previous plot. Apparently females like using band names as tags (Super junior, McFly), while males prefer finding lots of ways to say the same thing (metal, jazz). Most importantly we have just used science to prove that men don't listen to much k-pop.
Obviously music is the most important data that's available at Last.fm, but there are some other profile items that can be interesting too. The words used in the 'About Me' section on users' profile pages might even lead to the most interesting plot of them all: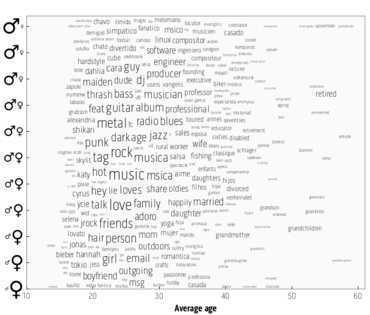 There are actually so many fun facts about this plot that it's just best to check it out yourself. The most obvious one is which hobbies you "should" have depending on your gender. Or you can find out at what age you should retire.
I used all of this to create a fun new playground demo that enables all Last.fm users to compare themselves with their friends. This is the plot for the data and recommendations team for example: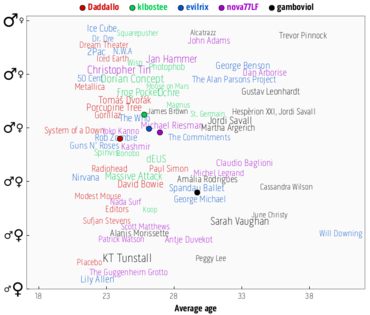 We've even thought of those of you who like to print their visualisations as a poster by providing a bigger PDF version that has more artist names on it.
Hopefully you'll enjoy this demo as much as we did. In any case, we'd love you all to let us know what you think.