At Last.fm, we always enjoy seeing how developers take advantage of our API and what incredible products they come up with. This week, Lurpak® are releasing a new UK-only radio product, called FoodBeats, that serves up music based on what you're cooking.
Simply type in the name of the dish you're making, how long you'll be preparing it, and Last.fm serves up a playlist based on what you're cooking. FoodBeats tailors specially selected songs into a playlist based on the listener's chosen recipe and learned musical preferences. So, for example, anyone cooking sausage and mash might be served anything from 60's mod rocker vibes through to the fun Britpop of the 90's.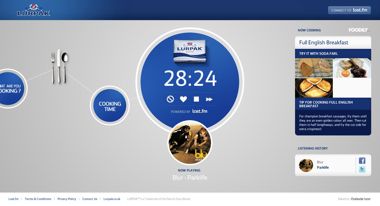 Next time you plan on preparing a dinner, try it out!