And that's a wrap!
Last week we revealed the final top ten in our Best of 2009 list, with — yup, as some of you guessed on the group shoutbox three weeks ago — Lady GaGa in top place with her album The Fame. With roughly 6 million more scrobbles than #2 artist The Killers had with Day & Age, she definitely earned her spot! Perhaps unsurprisingly, she's also top of the chart for most unwanted scrobbles thanks to the love-it-or-hate-it "Poker Face."
We also put up a data download for those of you interested in remixing or visualising the 2009 data. We'd love to hear about your creation too, so don't forget to post about it in the web services forum when you're done.
All the scrobbles that're fit to print
To have a bit more fun with the dataset ourselves, we traded pixels for picas at Last.HQ for a week and created a newspaper edition of the list! In addition to the Top 40, the newspaper includes some local data visualisations for London and New York based on listening in those cities. We were able to make this thanks to the lovely folks over at Newspaper Club, a new London start-up dedicated to helping people print their own newspapers.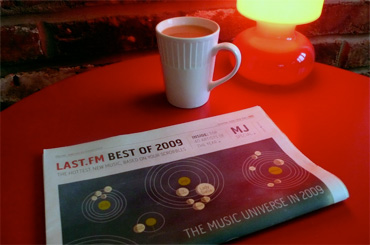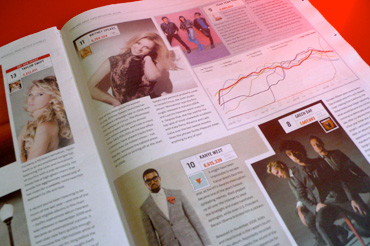 If you're out of our newspaper delivery squad's range, have no fear: here are downloadable A3 poster versions of the newspaper centrefold visualising month-by-month listening trends for both New York and London. Or, if those cities don't mean much to you, why not grab the activity page instead? It's got comics, a music crossword, and our favourite — a crabcore connect-the-dots.
Scrobbling in the name of
Moving from one set of charts to another, the race for UK Christmas #1 has been a hotly debated one this year. For the last 4 years the #1 spot has been taken by the winner of X-Factor, a reality show much like Pop Idol, driven by the infamous Simon Cowell. Bored with the years of "X-Factor monotony", a husband and wife team set up a Facebook campaign to get Rage Against the Machines's Killing in the Name to number one. People started buying the single en masse, and thanks to our exciting modern world of downloads and live updating charts on iTunes, Amazon and other retailers, people realised that the competition was actually achievable. Hundreds of thousands of people who had before ignored the UK official charts were suddenly inundating the BBC Radio 1's website to get the chart scores, and tuned in to the radio to hear the results first.
Much to everyone's disbelief, Rage managed to pull way out in front of X-Factor winner Joe McElderry, bringing in 50,000 more copies sold than Joe, and totalling 500,000 downloads. The betting industry allegedly lost an estimated £1million, and the single has risen 127 places on our own Top Tracks chart to come in at number 7 for this week.
Last.fm users joined in the campaign: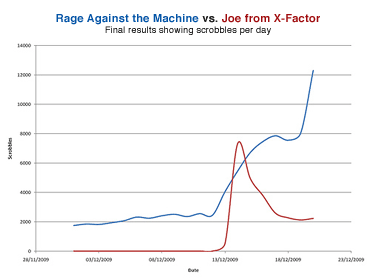 Pretty cool.
Happy New Year
And that's all for 2009! Thanks for continuing to support Last.fm seven years on; we'll be back in 2010 with more. Right now, it's time for a little Christmas tag radio.
Jingling all the way,
– Team Last.fm