Last week I attended The Great Escape which is a fantastic festival and conference in Brighton. In a previous life I built the Great Escape website for the Mama group and I've been to the festival for the last two years. I love it.
If you have never been to TGE, then I'd highly recommend you check it out next year. Spread out over 30 venues it is a great place to listen to new and upcoming bands as well as some more established artists. The vibe of the festival is chilled and when the sun shines, there's no better place to be than Brighton.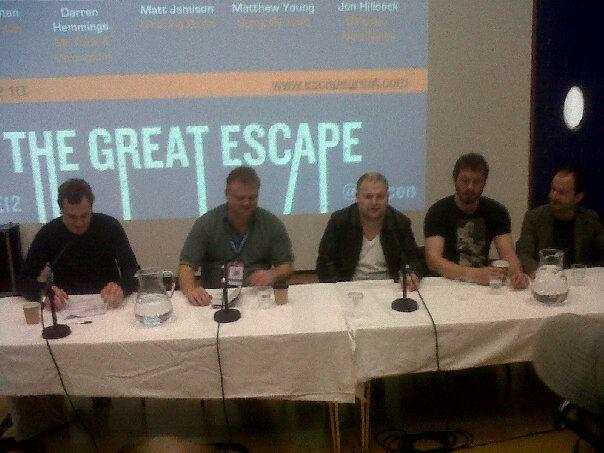 On Friday morning I attended a conference about New Music Radio and listened intently about how curated radio is changing with an interesting panel of podcasters, radio entrepreneurs and DJs, one of which kindly let me crash at his family's house (thanks Darren!) for the duration my stay.
When the debate was opened up for questions from the audience Duncan Geere from Wired asked how the panel see services like Last.fm. The response from Matt Young who runs Song By Toad was interesting and although I know he has a vested interest as a 'radio presenter', what he said was simply not correct. And I quote:
"I really think Last.fm and Pandora are fucking pointless. Whenever I log in to Last.fm, it just plays me 20 songs I already know. There's no way to listen to anything new".
Well Mr Young.. have you not checked out your personalised recommendations? Have you missed the new release recommendations, have you checked out Discover? Ever tried Your Recommended radio? browsed music by tag or tried multi-tag radio? There are SO many ways to find new music via Last.fm that the potential to discover tracks and artists you like but haven't yet listened to is enormous. Better yet, we can offer a choice to account for the needs of the people you seem to have overlooked… people who WANT to listen to music they know and like.
The point was well made by Mr Trick – which thankfully added a reality check to the statements from others on that panel – and that is… not everyone has a desire to have a DJ 'throw them a curve-ball'. They actually want to listen to, and be recommended, music that we know they will like.
The fact that new, upcoming and independent artists have uploaded almost 4 million of their tracks to be discovered in and amongst the entire catalogue of almost 15 million streamable tracks and the fact that our Last.fm users have scrobbled and added rich data for more than 50 million artists should tell you that the scope to discover new music with Last.fm is huge.
It is interesting to note that the poll running on Wired's site currently shows that 70% of people (at time of writing) are listening to less traditional radio because of Last.fm.
So, Matt Young, please come on over to Last.fm anytime and join us for a techmosis session, perhaps one Friday. We'd love to show you how good Last.fm really is and why millions of people all around the world know for a fact that what we are doing here is far from "fucking pointless".