The fine people at Big Scary Monsters kept up with summer tradition by lovingly putting together the 5th annual BSM 5-a-side Football Tournament – a fun-filled day featuring various music and tech folk attempting to prove their muscle on the football pitch.
The tournament provided the perfect opportunity to show what a very green Last.fc can do away from the comfortable confines of our computers and onto the wide open playing field.
As the torrential rain cleared and the sun peered through, spirits prior to our opening game against the burly Disc Manufacturing Services were high: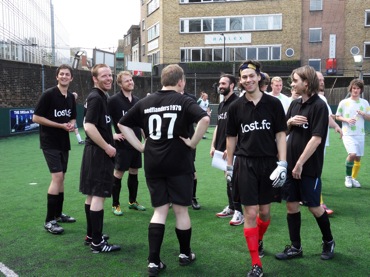 It was a rocky start as we conceded a few goals early on – despite Lumberjack's best attempts at the long range screamers he'd probably been studying on YouTube prior to kick-off: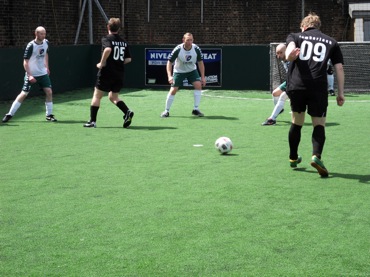 The game ended Last.fc 4-7 Disc Manufacturing Services. It was a blow – but we were not to be put down too soon as we brushed aside Rosa Valle in our second group game 5-1 with goals from the quick feet of Pbad, the power of eartle, the flamboyance of Daniel1986 and the beard of yours truly. And of course a world class penalty save from the safe hands of Lumberjack – documented on video here.
Our last opponents in the group stage were our friends in Drowned In Sound. All we needed was a draw to qualify for the Last 16, but with our energy levels hitting red we perished to two strong goals and, with no reply, the game ended Last.fc 0-2 Drowned In Sound.
An early exit didn't stop us enjoying a few post-match bevvies and an all important Last.fc team shot. Rest assured – we will be back next year fitter and stronger than ever!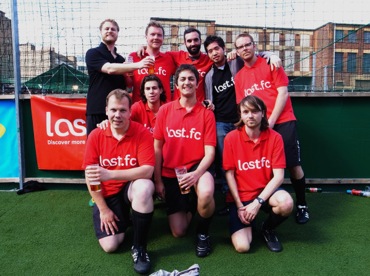 Top L>R: Lumberjack, eartle, good_bone, darkspark88, y0b1tch
Bottom L>R: nedflanders1979, Daniel1986, Omar711, Pbad
(Congratulations to the Old Blue Last who won the tournament beating Disc Manufacturing Services 3-0 in the final)