A bit less than a year ago we launched the VIP zone on our Playground, with the promise that we would keep adding fancy visualizations to it as a special treat for our loyal subscribers. We already delivered on this promise with the personalised Listening Trends and Music Universe visualisations, and today we're delivering some more.
This time around we got inspired by the WOMRAD 2010 paper Rocking around the clock eight days a week: An exploration of temporal patterns of music listening. By applying some nifty circular statistics formulas, we managed to create an interesting new visualisation that shows at what times of the day a given Last.fm subscriber has been listening to music over a certain time period. Here's an example: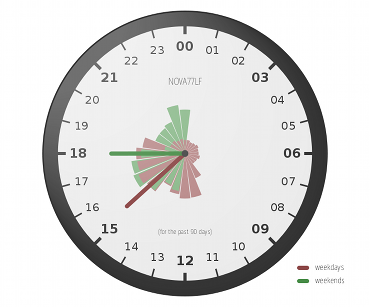 In this case we're looking at Norman's listening behaviour for the past 90 days. Red and green represent weekdays and weekends, respectively, and the longer the hand the more the listening was focused around the time to which it points. Generally speaking, Norman seems to listen to music at later times of the day in weekends than on weekdays, and his listening seems to be less restricted to certain hours in the weekend. It's also quite clear that he tends to listen to music from 10AM to 7PM on weekdays, which isn't that much of a surprise since those are our working hours here at Last.fm. He accidentally left his radio playing overnight a few times though, as indicated by the smaller red bars from 8PM until 9AM.
Our beloved LAST.HQ's listening clock for the same time period is a more extreme example: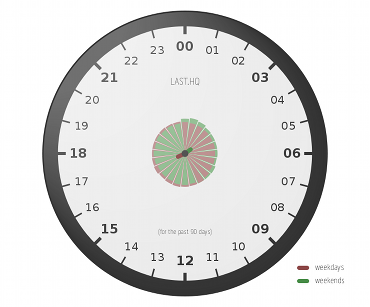 Since we use this account for the reception radio in our offices — which plays pretty much 24/7 — the listening is spread out across all times of the day, leading to two hands that are extremely tiny and cute.
We very much hope you'll enjoy playing around with this new visualisation, and that some of you will point to particularly interesting listening clocks or discuss potential improvements in our Playground forums. Meanwhile, we'll start working on the next one!