We work hard at Last.fm to give you and millions of users the services you have learned to love and to come up with new ideas. To keep the spirit high it's sometimes helpful to break out of the zone for a moment, get some distance between you and the problem you try to crack, have a short break and then come back to your desk with fresh ideas. Many of us at Last.fm like to enjoy a game of table football to fill those moments.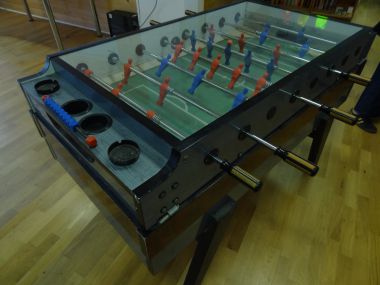 Now our football table has seen better times. The pitch is anything but level, and the last time we moved it to a new place we almost broke it. Twice. So it was time for something different.
Back in April three of us (DavW, marekventur and I) took part in the London Realtime hack day. We managed to impress the jury with YouChoose, a collaborative YouTube playlisting web site. We won a prize and walked away with a brand new iPad… between the three of us.
Rather than complain we sold the iPad to another member of staff and decided to put it towards a new football table. I added my half of the Spotify award of last year's London Music Hackday to the stock, but it still wasn't quite enough for a good table.
It would be a shamelessly hubristic act to believe that we would keep winning prizes, but we gave it a try. Two weeks after London Realtime we went to the Buckinghamshire countryside and took part at Game Hack. The three of us were joined by tdhooper. Within 24 hours of hacking and very little sleep, we created a little browser game and we won the prize for the best HTML5 browser game, awarded by Mozilla and Turbulenz.
That gave us a good budget for a shiny new table, funded solely with money we won at hackdays.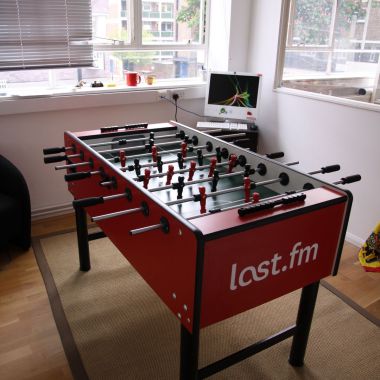 And now it is here. We ordered it from Kicker Klaus, a German mail order shop that specialises in all things table football. The Vector III weighs 125kg and we got it in Last.fm red, with red and black players, just as you would expect. I would like to tell you more about it, but I have been challenged to a game, and then it's back to work: the database doesn't code itself.