We're thrilled to announce that the Last.fm Playground now has a brand new VIP zone. In this subscriber-only area we'll showcase some of our fanciest ideas, visualizations, or plain weird projects as a treat to our loyal subscribers! Here's an overview of the new stuff we're releasing today.
Tube Tags
Which genre were you into last summer? How have your listening habits changed over time? Is there a correlation between the music you listen to and important events in your life? We've built a unique visualization, the Tube Tags map, to help you answer all these questions at glance, and to marvel at all the twists and turns your music taste has taken through the passage of time. Here's some details from mine (and some of our intermediary sketches):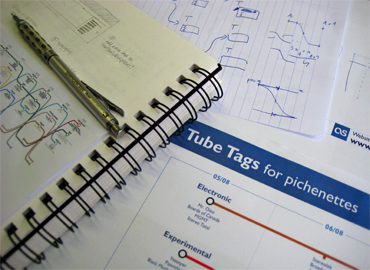 Each line is a tag, moving north or south depending on how much you listened to music described by this tag. Your most popular artists for each tag are also shown. Of course, the longer you've been scrobbling, the better it looks! I'm really proud that I've been scrobbling so regularly over the past years — and that I've left this trail of data that allows me to revisit today, through music, past moments of my life.
While only subscribers can currently generate a Tube Tags map from their listening history, the map is visible to anybody — we thought you might want to share it with your friends. If you prefer printing this as a poster, we recommend Diginate's online poster printing.
At Last.fm, we enjoy being mad scientists, playing with data and infographics — stay tuned for more in the visualization department!
New toys
The new VIP zone also contains a few other toys: Image Chart creates a collage of your top artists' images, History Chart summarizes your listening activity for your top artists in a neat visualization, and Artist Connections is a musical equivalent to the Six Degrees of Kevin Bacon game; try it out to check if there's a chain of similar artists linking Paris Hilton to Metallica. Finally, we also added a new World Chart demonstration that shows you in which countries a given artist has been listened to most often.
We'd love to hear more from you about these features – please send us feedback or join the Playground Group to discuss them with others.
Update: We have added an option to let you render the image for your entire listening history (you've been warned: some pdf viewers might choke on the large image size, and there might be meatballs lurking between all those lines…). Just add &full to the download url: http://playground.last.fm/demo/tagstube/map?user=flaneur&full)