Last Friday, 29th of April, was a big day for Prince William and Kate Middleton, and a great excuse for a party for the rest of us… We even set up a special radio station for the big day. But we spotted a bit of an oddity in the scrobbling logs. Not everyone, it seems, was caught up in the wave of patriotic royalism that swept Britain that weekend.
Sitting at number 84 in the UK chart for that day was the Sex Pistols' anarchist anthem, God Save The Queen.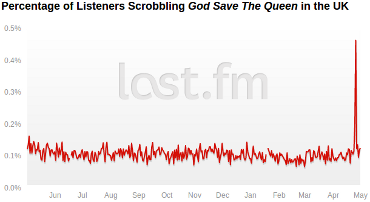 About 1 in every thousand listeners in Britain scrobble God Save The Queen on a typical day (not counting Last.fm radio listens), which isn't bad going. But on the day of the Royal Wedding it hit nearly five times that, far more than on any other day in the last 12 months.
Originally released in 1977 for the Queen's silver jubilee, the track was banned by the BBC and other broadcasters for its incendiary lyrics, but shot to the top of the charts nonetheless.
Even in 2011, with Sid Vicious long since departed and Jonny Rotten making TV ads for butter, the song has kept its angry appeal — as the chart above shows.
So here's to our listeners for keeping the punk spirit alive — we mean it, maaaaaaan.