The Last.fm Research group links to an interesting article on the Hometracked blog: All Linkin Park songs look the same
In the author's words:
Each image below shows the audio level in (roughly) the first 90 seconds of a Linkin Park song. Note that I adjusted the tempo of a few tracks for better visual alignment.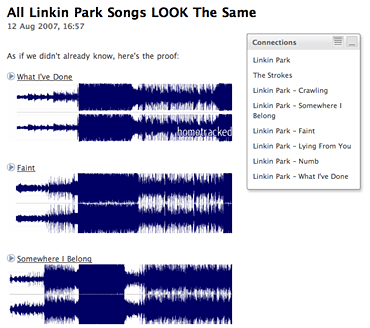 Make sure to read the full article to see more pics and for the full explanation.
Do you disagree with the implications? Does this say anything about the state of Pop? What other patterns could one find in different forms of pop music? Discuss. (But pls stay civil :)
Oh and — has anyone done similar analyses for other artists as well? Let us know if you have something to show.
Update: now giving credit where credit is due… Thanks aradnuk for pointing out the error.