While other annual retrospectives are based on editors' picks or sales data, the Last.fm Best of 2008 list is based entirely on what the Last.fm community has been listening to this year and shows which artist, albums and tracks defined the musical landscape in 2008.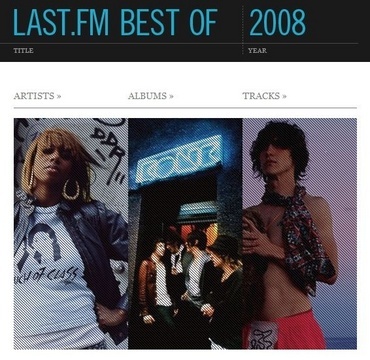 We compiled the list by looking at the data in a number of different ways to get a full picture of what you all listened to this year. First we looked at absolute numbers. It won't surprise any followers of the Last.fm weekly charts to know that Coldplay, Radiohead and The Beatles topped the list. While Coldplay's "Viva La Vida Or Death And All His Friends" certainly made an impact this year, many of the other artists had not released any new material, and we wanted to know what artists really made 2008 different. So, we decided to slice the data to show us which new artists really broke through this year. We chose to define "new" artists as artists who released their debut full-length album in 2008 in the UK, and we ranked them by total number of listeners. Check out who made the top ten here.
Next we looked at the top albums by scrobbles in 2008. When looking at all scrobbles in 2008 by album again we saw the weekly chart champions dominated the list. We then looked just at albums physically released in 2008 in the UK and ranked them by listeners, and came up with a list that shows what albums are this year's classics. See if you can name all top ten and then score yourself here.
The top tracks of 2008 list (as you can probably guess by now) is made up of tracks released in 2008 and ranked by listeners. Who dominated the list: earnest rockers or that summer hit you couldn't escape? Check it out here.
Finally, we put it all together in a radio for your listening enjoyment. To mix it up a bit and keep you guessing, we expanded the radio to include the top 30 artists, albums and tracks of 2008. If you're feeling sleuthy, you can track down the source of the radio to see who didn't quite make it to the top.
Enjoy!
Update: If you're logged in on one of our international sites, please change your language to English to see http://www.last.fm/bestof/2008