While reading the journal of user Hirenj_au earlier this year I found a reference to the then newly founded Last.fm Stats group, and was delighted by the idea.
The Stats group was founded by user C2600 in late December, but has already passed the 800 members mark, and member count is steadily growing. I'm not surprised—the group manifesto makes it clear that this this is one group to watch:
The main objective of this group is to collect all the interesting tools related to music stats that are scattered around last.fm, to share your stats with other people and discuss about music stats in general.
Fracking great idea if you ask me. I immediately joined (and saw that Mischa already was a member, and invited Erik who is always keen on stats…), and I've been watching their findings ever since.
They already have an impressive list of tools and visualisations, and over time we'll present some of their (and our own) findings on this blog; today I'll start with something simple.
Last.fm Mainstream-O-Meter
There already are a couple of approaches floating around the community to calculate your 'mainstreamness' manually. Here's a well-designed web application by Luce. that does it for you: the Last.fm Mainstream-O-Meter. After Muz posted it in our internal IRC channel ages ago everybody went crazy for a while…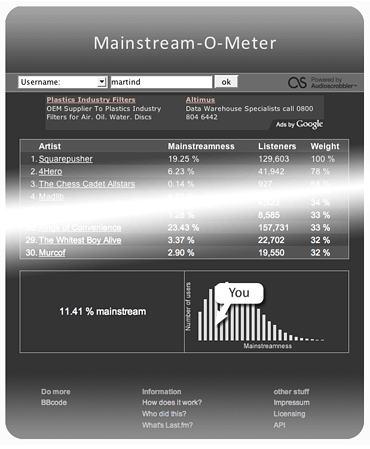 My score: 11.41% mainstream. So proud…
But of course you can always go lower. We already found out with the Chart Arcs experiment that Anil (aka joanofarctan) is a man of most obscure taste. I just found this comment from Luce. in the Mainstream-o-meter forum discussion:
@bubblesaurusrex—congratz! Until now there's only one person who listens to music which is stranger than yours: joanofarctan