So far, it seems, our blog has been dominated by announcements, technical tidbits and various other odds and ends. Seeing as Last.fm is actually meant to be about music we thought it was about time that we, your friendly neighbourhood Music Team, introduced ourselves. The rest of Last HQ may lead you to believe that we are somewhat of a side show to everything else that goes on here; but let's face it, what would we be without the music?
An Introduction
Last.fm is and always has been dedicated to working closely with artists and labels, whether they are making music after school in a bedroom, releasing their first indie album, or are part of a major and selling millions of records a year. If you're in a band, or run a label, you can join the Last.fm family by registering for a music account.
Our mission then is to make sure you can hear anything and everything you could ever want to on Last.fm. If you consider how many labels, how many artists, how many albums and how many songs have ever been created you may be close to achieving some idea of the mammoth size of this task.
This is us. On the roof.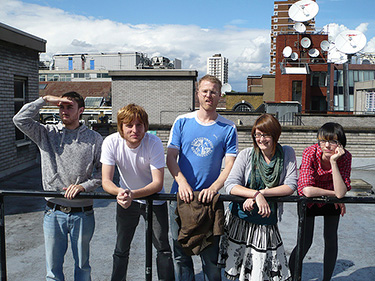 A day in any one of our lives might include keeping artists and labels happy (as well as meeting new ones), getting CDs encoded and online, managing promotional campaigns and making sure everything is running smoothly. There's also research to be done, contacts to be made, phones to be answered, the Music Manager to babysit, a forum to tend, blog posts and newsletters to construct, developers to bribe and perhaps most vitally, tea to be drunk and biscuits to be eaten.
Bands in Bath Tubs
We also like to think that due to the time we spend browsing various artists pages that we spot some of the best oddities on Last.fm. For instance, the vast quantity of photos of bands-in-baths that we spotted earlier today; Liars, Menomena, CocoRosie, The Unicorns, Xiu Xiu and our very own Matt H's Everyone to the Anderson. He can't explain it, anyone else have any ideas?
Other recurring themes we've spotted include swimming pools (Reuben, Blink 182, Nirvana), the four-way split (Interpol, Fugazi, Grizzly Bear) and the ubiquitous 'standing in front of a graffitied brick wall' shot (Pretty much every band, ever). This does beg the question is there such a thing as an original band photo?
My winners are probably Animal Collective, whose highlights include a theme park log flume photo. The Shins as sleeping super heroes and Modest Mouse just seem to take it to the next level by turning themselves into trees, or giants, or a museum exhibition… in the desert.