Hello dear users! Fresh on the heels of the all new desktop scrobbler and Scrobbler for iOS, we've been hard at work on a new service that we're announcing today – Last.fm Unplugged!
We realise that despite mobile internet and smartphones, a lot of people often listen to tracks on other services that do not support scrobbling or are in places where it is not possible to scrobble via our many clients. That is why we decided about eighteen months ago to develop a new service which can process all other scrobbles.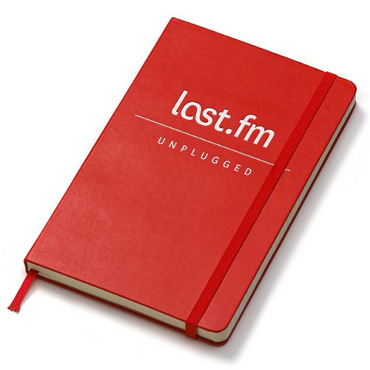 We're in the process of partnering with Moleskine to produce a Last.fm branded notebook with a special Last.fm micro pencil. Unfortunately this isn't available yet but until then all you need to do is print out this template, fill out the songs that you listen to and send your completed sheets to Last.HQ!
Examples of what you might like to use Last.fm Unplugged for include:
Setlists at gigs and festivals
Songs heard on the traditional radio (please don't attempt to fill out your Unplugged notebook while driving!)
Elevator music
Street performers
Humming or whistling to yourself
Once we receive your sheets, we'll then attempt to scan them – and if that fails, use our troop of monkeys to manually enter your scrobbles. Scrobbles must be handwritten in order to prevent scrobble fraud. You'll never miss another scrobble thanks to this game changing new service!
For all developers out there, Last.fm Unplugged is written in a combination of Visual Basic 6 and Lisp – combining the rapid turnaround time of BASIC languages with all the power of a list processing language.
You can download the template here.