In 2009 Last.fm was proud to partner with our friends at Microsoft to bring music discovery to Xbox Live. Today we're excited to announce a new update to the Last.fm app on the Xbox 360 platform.
The new Last.fm on Xbox LIVE application brings a dramatic facelift simplifying the interface, adding features and including our Originals video library for all to enjoy.
Key Features
• Exclusive Last.fm video content
• Kinect voice and gesture control
• Fine tune your favourite stations
• Full-screen high-quality artist images
• Train Last.fm to discover music you'll love
• Share your music taste with friends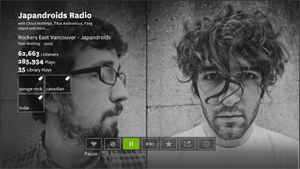 Radio
The radio options have not changed – you can still listen to artist radio, tag radio, and personal stations (my library, my mix, my recommended), but now it's easier to jump down the rabbit hole of discovery and launch related stations. Every track that plays shows relevant tags which can launch into a new radio experience. During playback, an artist info button helps you discover similar artists and allows you to launch a new station based on their unique sound.
We've also added a "fine-tune" option, accessible during playback of personal stations, which allows you to filter what you listen to. Want only your hip-hop recommendations, or heavy metal library tracks? You can do that! It's a new and powerful way to give you greater control over what you hear!
We are also displaying full-screen artist images during playback, giving a cleaner and more beautiful visual experience. Tune in to your favourite station and let Last.fm take you on the best personalised music experience.
Video
With the inclusion of Last.fm's Originals video content, there are more ways to discover new music. Including exclusive performances and intimate interviews, Originals delivers a blend of new and established artists in unique settings. See live recordings by artists like Big Boi, Emeli Sandé, Minus the Bear, Bastille and Two Door Cinema Club. See exclusive interviews with Phoenix, Olly Murs, Jake Bugg, Ramona Falls and Jason Aldean. It's a veritable buffet of amazingness.
Turn your TV into the world's smartest jukebox with Last.fm, Xbox LIVE and Kinect. Discover new music from Last.fm's 18 million tracks and watch hundreds of exclusive videos featuring the world's hottest artists. The more you listen the smarter it gets.
To learn more about Last.fm on Xbox LIVE, visit our hardware and group page.