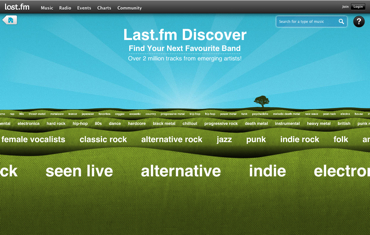 "Let a thousand flowers bloom"
Mao Zedong never said that. It was actually a hundred flowers.
As you take a look at our new Last.fm Discover app, you will find we don't have a thousand tags either. It's close to 2 million tags that have been created over the years by our members to describe the music they love.
It's these user-generated tags that power our HTML5 Discover web app. We launched it yesterday and it's available around the world, without restrictions and without advertising interruptions.
Last.fm Discover is a personalised music player that introduces you to bands from around the world by letting you browse through musical styles that you may already know or want to learn more about. You won't find the latest X-factor winner or the latest plastic boyband manufactured by evil scientists in a lab somewhere. Some of them are quite rough around the edges – make use of the ban button when you come across something unlistenable – but you'll also reach for the love button as you discover diamonds in this amazing library of tracks.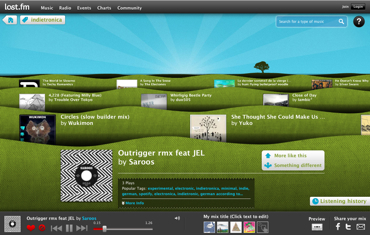 This diversity and eclectic view of the musical landscape is what Last.fm is all about. We don't live in a cookie cutter world of hackneyed generic labels for music. Most music sites include the standard dozen genres (pop, rock, urban, etc.) and that doesn't adequately describe the diversity of music out there. Our tags system encourages the weird and the wonderful, the micro-communities and new scenes that are springing up as fast as new, independent bands are formed.
Last.fm Discover celebrates this, and features more than 500,000 artists and labels who have uploaded their music to reach the ears of the Last.fm community. For many of these bands, the main desire is to be heard and enjoyed. They don't have a piracy problem, they have an obscurity problem. Supporting independents has always been core to Last.fm. At least 20% of the music played on our streaming radio services already comes from these independent artists (and they are all paid via our Artist Royalty Program).
We hope you enjoy discovering new music via our new app, and that you support the independents who make it. They, more than any shiny new gadget, venture-capital supported music service or giant record label, are the future of music.