Matthias and the MIR team have been hard at work analysing pop music using signal processing algorithms. Over the next few weeks they're going to reveal some of their findings in a special series: Anatomy of the UK Charts…
Everyone's their own music expert. Some know more and some know less, but I challenge anyone to have listened to the entire catalogue of the UK charts. It stops being fun after a while. That's why at Last.fm we've programmed our computers to listen to music.
We fed them around 15,000 tracks from the UK singles charts between 1960 and 2008 and discovered some fascinating results we'd like to share with you. It all starts with the discovery that just before the middle of the 70s something in the data changed…
The Explosion of Percussiveness
The explosion of percussiveness is one of the most distinctive patterns we have observed in our audio data. In the figure below we've plotted the proportion of "percussive" tracks in the UK charts over time. In order to decide how percussive a track is, we use our audio analysis framework to read the MP3 file and create a series of graphs known as spectrograms. In a spectrogram, vertical patterns indicate percussive elements, and the strength of these patterns, averaged over a whole track, is a good measure of its percussiveness.
What you see in the figure are the top 20% percussive tracks of all 15,000 tracks, and how much of the charts in a particular year they occupy.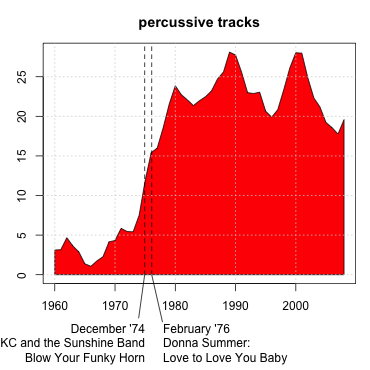 Donna Summer – Love to Love You Baby
KC And The Sunshine Band – Sound Your Funky Horn
We were surprised to find such a huge leap around 1974 – so what happened to make the charts go percussive?
The simple answer: Disco. In the figure above, we've marked two songs that were in the first wave of successful Disco tracks in the UK, "Blow Your Funky Horn" by KC And the Sunshine Band (topping at number 17 in December 1974) and Donna Summer's ground-breaking erotic Disco song "Love To Love You Baby" (number 4, February 1976). In fact, if we look at all the percussive tracks from 1974 to 1979, Donna Summer is the leading artist:
Artists with highest number of "percussive" hits (1974-1979):
7 – Donna Summer. Example: Hot Stuff
5 – Hot Chocolate. Example: You Sexy Thing
4 – Eric Clapton. Example: I Shot The Sheriff
4 – KC and the Sunshine Band. Example: I'm Your Boogie Man
4 – Tina Charles. Example: Love Me Like A Lover
3 – Barry Biggs. Example: Work All Day
3 – Bob Marley & the Wailers. Example: Could You Be Loved
3 – Earth, Wind and Fire. Example: Let Me Talk
3 – Rose Royce. Example: It Makes You Feel Like Dancin'

Now there's not only Disco in those tracks but also some reggae, not least because Eric Clapton went reggae. We'll have to look beyond percussiveness in order to find out more about Disco.
Donna the Disco Diva
So can we find out what's really Disco? For the sake of the argument, let's say that Disco is 70s music that's percussive and has a steady rhythm. As it happens we have a measure for "steady rhythm", calculated using our new measure of rhythmic change (see Audio Flowers). We calculate it this way: "rhythm steadiness" = 1 – "rhythmic change".
In the figure below, we have plotted the values of percussiveness against this "rhythm steadiness". This time it's not about individual songs, but about artists. The position of each circle shows the average percussiveness and steadiness of all the artists' tracks (1974-1979), while the sizes of the circles indicate how many hits they had. We've added artist names for those who had more than 8 hits.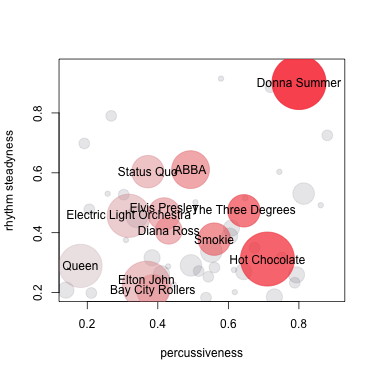 One does get a feeling that Donna Summer is somehow special. Among all artists with more than 8 hits, her tracks are by far the most percussive and rhythmically steady… she's so Disco! ABBA have a softer touch of Disco, much less percussive, but often quite steady, whereas Elton John is revealed as seriously non-disco – despite his (rather late) 1979 attempt to cash in on the craze with Victim of Love.
But Elton and co had already had their share of the cake – there's so much more to the 70s than Disco! Check back next week for "Clash of Attitudes" (edit: find it here), the second part of our Anatomy of the UK Charts.
Further Reading
Charts: the official UK charts; the independently-maintained Chart Stats.
Music Information Retrieval: technical paper on audio analysis of rhythm; Last.fm's Audio Flowers (for rhythm steadiness/change); general introduction to content-based Music Information Retrieval.