You may have noticed last week that a new update to the Last.fm iPhone app has hit the App Store. Yes, 3.0 is out, and it's looking great.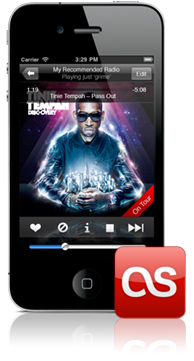 Since we released Last.fm for the iPhone back in July 2008, the app has been focused primarily around streaming radio. This has now all changed in the latest release; 3.0 does more with the vast amounts of user contributed artist information and event information Last.fm has, as well as bringing you personalised recommendations and music listening stats.
Here's a run down of the new features:
Profile Page
Top Weekly Artist Chart
Your recently listened tracks
Overview of what your friends are listening to on Last.fm
Events Page
See the events you're attending (including information about support acts and a quick link to a map of the venue)
See what gigs Last.fm recommends you
Find gigs near you
See which gigs your friends are attending
Music Search Page
Browse through the Last.fm music catalogue
Artist Biographies containing trivia (great for cheating at a pub quiz music round!)
View similar artists.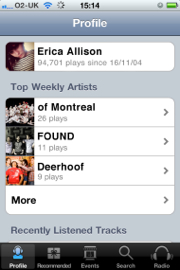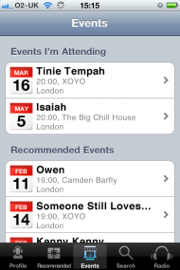 As a treat to subscribers we've also enhanced the radio by introducing Friends Radio – a mix of the music your Last.fm friends have listened to. You can also edit any personal or network station with the new tag filtering feature, allowing you to refine the station you're listening to by a relevant tag. For example at the moment I'm listening to a lot of Friends Radio filtered by the Rock tag.
(I'm also sure that iPhone4 users will also appreciate the new graphics we've used for retina displays)
These new features are just the beginning of what is possible using our API. If you're interested in taking a look at the code or tweaking it, our iPhone client is open sourced under GPL3 and is available on github.
If you haven't already updated to the latest version then please do. More information is available from the iTunes App Store.
Last, but not least, our Last.fm mobile apps are up for an Appy! Thanks for your votes, keep 'em coming!