The moment many of you have been waiting for arrived yesterday: Last.fm revealed the top ten of our Best of 2010 list.
This year Ke$ha crashed into the number one spot, stealing the crown from 2009's winner Lady Gaga. She's proven practically untouchable in the race to the top too, clocking up an astonishing 15.9 million scrobbles over the year with her January 2010 release Animal.
She took over 4 million more than the runner-up, Mumford & Sons, and if you look at the stream graph of the most-played music month-by-month you'll see she's been a permanent fixture.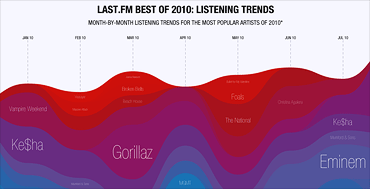 In my opinion, however, the even more exciting bit is that we're also making the underlying data available for anyone to download.
I was one of the privileged people here at Last.fm who had to shed lots of blood, sweat and tears to get the data for the Best of 2010 list generated, so I'd really hate for it to only be used by us. There's now plenty of opportunity for you to create different views on this data by visualising it in new and clever ways, combining it with other information obtained via our API or even from entirely different sources. I simply can't wait to see what other people will do with it.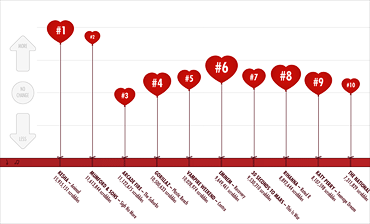 To get you started, we quickly whipped up a balloon race style data visualisation. The "Best of 2010 Balloon Race" is based on the Best of 2010 data, showing you how much the top artists in our chart have risen (or fallen) in popularity since last year, as well as contrasting the overall number of listeners for each artist against their rank (number of listeners for their 2010 release).
We even went all the way and made a personalised version of this visualisation available to subscribers on Playground. As usual, we invite you all to send us feedback or join the Playground Group to discuss.
If you're interested in working with data and consider yourself capable of doing useful things with large amounts of it, then you should come work for us. Maybe you'll be the one showing off the Best of 2011 data next year!