You might just remember that back in the summer we launched a new recommendations page dedicated to full-length previews offered by up-and-coming and independent artists on Last.fm. While lots of you have been enjoying this as a way to connect with brand new artists, we've been working hard to build a much cooler version.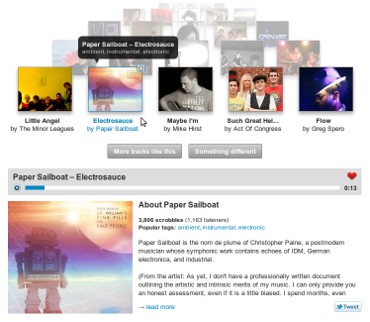 Our new Recsplorer (recommendation explorer) lets you listen to full-length previews by a mix of new artists that we think you might like, based on your scrobbles, loves, tags, etc.
If you hear something you like, you can ask Recsplorer to find you more tracks like the one you're listening to. Or, if you fancy a change, Recsplorer will give you a new set of varied recommendations.
Last but not least, you also have the option just to click once, lean back, and listen to a sequence of full-length tracks recommended for you, direct from the artists who made them.
Enjoy exploring your new recommendations!
————————————————————————————————
EDIT 16:35 Due to demand you might find that it's not working on launch – we're just fixing that now. Make a cup of tea and check back in a little bit.
EDIT 16:41 It should be fixed now. Sorry about that.