It feels like just the other week that I posted this on the Last.fm developer forum to get feedback and ideas on a new version of our scrobbling API that we were mulling over.
For those less technically-inclined, the scrobbling API defines how data gets transmitted to Last.fm every time you listen to a song. Scrobbles are incredibly important to us. They're the building blocks of your music profile, and put together, they power basically everything that Last.fm knows about music.
The current API does a decent enough job, but we've had many developers complain about it being inconsistent with the other ways of accessing Last.fm data (via our web services) and its rather shoddy feedback on errors.
We also wanted to make the API more extensible so that we could define certain information which must always be submitted (like track and artist name) while allowing us to provide extra functionality in future via optional fields that wouldn't break existing scrobblers.
600 ways to scrobble
Our scrobbling servers get a lot of traffic – at certain times of the day we have nearly 800 people telling us what they are listening to every second, and we are nearing our 40 billionth scrobble! There are also many different ways to scrobble the music you're hearing, some developed by us (such as our official Last.fm, Android, and iPhone apps) as well as applications developed by third parties and music-loving geeks from all over the world.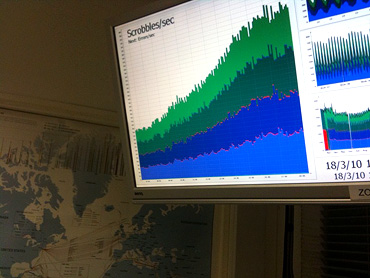 All told we have more than 600 scrobblers created by people other than us, covering popular online services like Spotify and The Hype Machine, hardware devices like the Onkyo TX-NR807 and the Logitech Squeezebox, as well as online storage services like Bitspace, extensions for browsers like Chrome (via Chrome Scrobbler), Opera (via Seesu) and Firefox (via FoxyTunes), and finally, for the real geeks, plugins for Gnome's totem player and a promising-looking fork of Amarok called Clementine, to name just a few. A fair share of all existing scrobblers is listed on build.last.fm – browse around if you're curious!
Preparing a new version of the scrobbling
API
Given the heavy use of the current scrobbling API, releasing a new version of it is not something we take lightly – which is why it's taken more than a year to get to where we are today. My post back in January 2009 generated pages of suggestions, plenty of e-mail conversations with developers and led to many hours of internal discussions and arguments involving nearly everyone in the company in some way.
We are finally able to unveil our first draft of what the new API might look like. Please bear in mind that this is not complete or final; we're releasing it as a "request for comment" from the developer and user community. All the technical details can be read on our forum here and we'd like to keep detailed discussion there. We'll be monitoring the post and taking feedback onboard.
Here's a summary of just some of the highlights planned for the new API:
The scrobbling

API

will become a fully-fledged member of the Last.fm Web Services under a new "Scrobble" package joining its friends Track.love and Track.ban instead of being all sad and lonely on the sidelines. This should simplify things for developers by having one unified authentication, request and response mechanism. We also hope that this will lead to applications which currently just scrobble to use the rest of our

API

and vice-versa, with the end result being cooler apps with more features for everyone.
Migrating to the web services will improve our ability to track the use of scrobble applications, so we can do groovy things like charts of the most popular scrobblers, and analyses of musical tastes across different scrobblers. Yes, we will finally be able to answer the burning question – "Do Amarok users have better taste than XBox Live users?" We hope that our scrobbling partners and their users will be able to do cool things with this data.
Corrections information will be returned where relevant so users can be prompted to fix any incorrect metadata they may have.
Changes to Last.fm radio scrobbling will allow us to improve our recommendations. We'll get more specific listener feedback because loves, bans and skips can be tied to a specific radio stream, not just to a particular track.
We'll return more detailed error messages which should simplify the process of developing a scrobbler.
Third party developers will be able to upload their own icons which will show up on a Last.fm user's profile when they are listening with a particular scrobbler. We currently provide this as a service for our most popular scrobblers but will extend this to all third party apps (this was our most requested feature after improved error logging!).
There were a lot of great ideas which didn't make the cut, but the new API should allow us to add new features more easily and we plan to expand on this release in the future. After a round of feedback from the community we hope to put a beta version of the API out for testing and will then work towards finalising it a month or two after that. Third party developers will then be able to start updating their existing applications (or writing new ones) and passing the benefits of the new features on to you, our faithful users.
We're hoping that by making scrobbling development easier we will be taking more steps towards getting every musical device on the planet scrobbling. Let us know what you think.