Ever since I joined Last.fm back in 2005, my long-suffering coworkers have had to put up with endless grumbles about the state of the metadata on our music catalogue pages and how we desperately needed tools for putting things right. Well, as of today they can all breathe a collective sigh of relief: Last.fm now automatically corrects common misspellings of artist and track names for you.
As you might be aware, the pages for artists and tracks on Last.fm are automatically created from peoples' scrobbles. Until recently, the system had no way of identifying variations in spellings of artists and tracks, which led to many duplicate pages for the same artist or track. With millions of scrobbles coming in every day, it doesn't take a genius to figure out that you will soon have a big metadata mess on your hands.
If you've been following the Last.fm Blog, you'll have seen our articles on audio fingerprinting:
Our esteemed music scientists have crunched the fingerprint data you've sent us, and have generated a huge list of auto-corrections for both artists and tracks. As of today, these mappings enable us to automatically redirect you from a badly spelt version of an artist or track to the correct one. Try it out for yourself at Trentmoller's page Note: this links to an incorrect spelling, and will redirect you: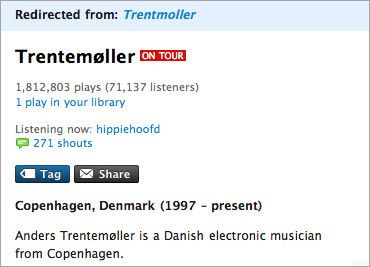 Once you've been redirected to the corrected spelling, you will still have a choice to go back to view the original page, in case we made a mistake. If you think we wrongly corrected a spelling, you can let us know by clicking "Flag this":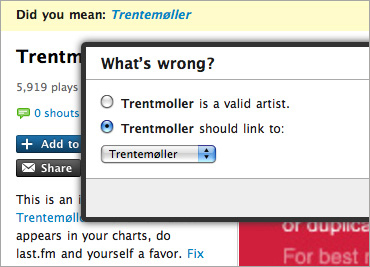 Merging data in your profile
If you have scrobbled tracks by both Trentemoller and Trentemøller in the past, these will now be combined and the playcounts accumulated in the charts on your profile. (If you don't like this behaviour and would prefer to keep your original spellings as-is, there's a new setting for you.)
Merging data for artist pages
We are still not merging data for spelling corrections on artist and other catalogue pages. Spelling variations there will still have their individual playcounts and charts for now. We'll be working on this in the next phase of our metadata-cleanup operation, after we've listened to your feedback about the current changes.
How to report mistakes
As clever as these auto-corrections are, it's inevitable that some mistakes will slip through, especially in these early stages. On each artist and track page, you will see a link down at the bottom of the right hand sidebar, which allows you to suggest new corrections or flag existing ones. The more votes we get through this system, the more accurate the catalogue will grow over time. So please be patient and it shouldn't be long until you'll never see that "fix your tags" image in your charts again!
Please note we won't auto-correct spelling in your comments, but we will delete off-topic ones :)