April 21 update:
We've posted an official announcement in response to feedback, check it out here!
—
A few weeks ago, Adrian used this space to introduce music application developers to the next generation of our Scrobbling APIs and ask the question "But does it scrobble?". Meanwhile, Stefan has been spotted at SXSW and around Last.HQ wearing this t-shirt:
Why the recent fuss over our favourite neologism? Well, scrobbling forms the basis of one of our core missions: helping users make the most of their music listening across a variety of services and platforms by saving it all in one place, their Last.fm profile. We've been at this a while and have spent the last seven years working hard on making it more useful to wield a Last.fm profile through features like personalized music recommendations and concert listings, radio streams, a rich API, and different ways to share, reflect, and show off your own music taste as well as that of your friends.
Now, on the eve of receiving our 40 billionth scrobble, we're ready to start rolling out some changes that focus us even more firmly on this mission. We think it's more relevant in 2010 than ever before.
The first of these goes live today! But before we fully integrate these new ideas, we're trying a few out in beta form on our track pages. Here's a quick look at what's new — for more detail and to leave feedback, check out this post on our forums.
Closing the loop with partner playlinks
The list of music players and devices that scrobble has been growing steadily since 2003, and we now have over 600 scrobbling partners. One of the coolest things to happen in online music over the last couple years is the emergence of "cloud" services, applications that make it easier than ever before to play whatever you can think of, whenever you want.
As passionate, tech-savvy music fans, Last.fm users are among the first to adopt new music technologies. Accordingly, many of these new services are now adding — or have already added — scrobbling support. Our scrobbling data shows that, for some time now, people have been using multiple music services and devices, then coming back to their Last.fm profiles to answer the question "what should I hear next?" and to see / show off all their listening united in one place.
We think this is great. Today we're taking the first steps in "closing the loop" and nurturing this usage even further by adding links on our track pages to some of our favourite music services that scrobble.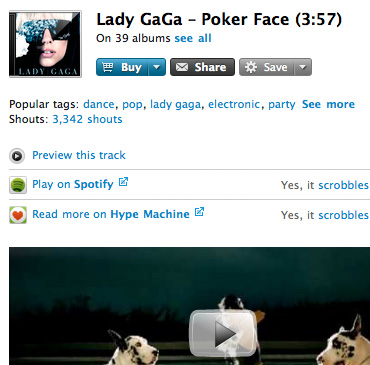 Our beta launch partners for this integration are Spotify (in the UK, France, Spain, and most of Scandinavia), MOG (in the US), and The Hype Machine (worldwide). We're also working on connecting our users to more great services soon, including We7 (UK), VEVO (US/Canada, and our first 3rd-party video scrobbling partner!), and others.
No two streaming services are alike; they all have different user experiences, geographic restrictions, catalogues and specialisations. We're starting small today, but our vision is for Last.fm to efficiently connect any user to ALL of the relevant streaming options in their country for every track we know about, as well as being able to personalise listening preferences Last.fm-wide.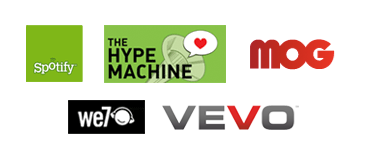 These changes also mean that we are retiring our own on-demand track streaming, which we've run for the last two years in the US, UK, and Germany. Consistent with how people have used Last.fm since the early days, engagement with features like user profiles and personalised radio stations has remained much higher than usage of on-demand playback. We feel strongly that we can better fulfill our core mission by instead connecting our users to services in the ecosystem that, unlike us, focus primarily on a jukebox-in-the-sky streaming experience. Similarly, we'll no longer be hosting music videos ourselves, instead integrating video from Youtube (now in higher quality!) and soon, VEVO.
We believe that this renewed focus on Last.fm as the definitive online home of your music taste and your base for music discovery – regardless of where you listen – will help improve not just our users' musical lives but the overall online ecosystem as well.
Making scrobbles work harder
Unlike almost any other music service out there, we're built and curated entirely by you, the music listener. Because of scrobbling, Last.fm knows 40 billion different things about music and that knowledge is growing every day. So as part of the track page beta we're trying out some new ways of representing that information, on both the global and personal levels.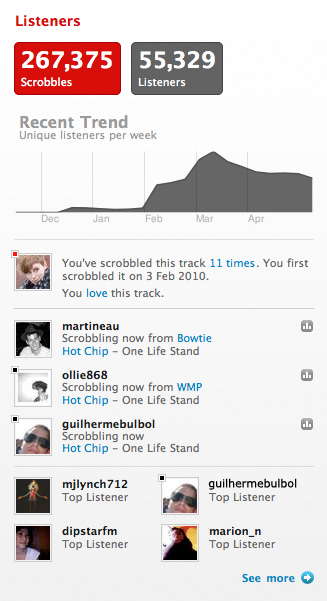 We're just getting started with this – now we need your feedback so that we can roll this and related functionality out across the rest of the Last.fm website and beyond.
We want to hear more from you – who you'd like us to partner with, cool new services, data visualisation and feature ideas, and any other thoughts you have about the changes. See you on the forums!
—
Update: To clarify, today's changes don't affect Last.fm radio stations at all, just single-track playback on the website. Radio is one of our flagship music discovery features and has long been the most popular way to stream music on Last.fm; we'll keep improving it in future. Play on!