When we released Tube Tags to our loyal subscribers back in October, we promised to launch more data visualisations features soon.
Since then, we received lots of positive feedback about the infographics created for the newspaper edition of our Best of 2009 feature, including a mention in Fast Company for the "Local vs Global" comparison charts. Many of you asked for personalised versions, so that's exactly what we've done! They're now available to all subscribers in the VIP zone of our Last.fm 'Playground.'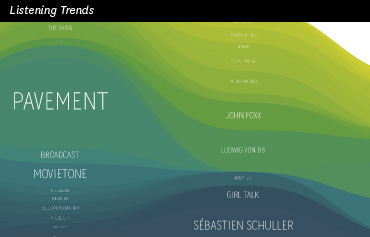 Listening Trends allows you to create the same kind of comparisons we did for the "London & New York vs. The Word" graphs, but on a smaller scale for your friends or neighbours. Or, if you're not into comparisons, you can always get a classic stream graph visualisation of your listening trends over time.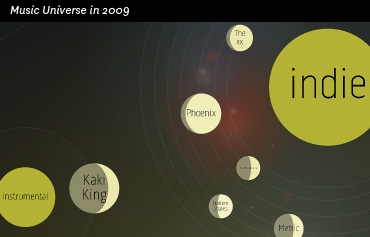 Music Universe shows the artists you listened to the most in 2009. The artists are grouped by tag, depicted as moons orbiting tag planets! Building this visualisation was a particularly long odyssey through circle packing algorithms, font format madness, color tweaks and disapproving cats.
Please send us feedback or join the Playground Group to discuss these features.