UPDATE: We've had to close comments so that this page can load (over 2000 of them!), but please continue telling us what you think in the feedback forum. See you there.
—
Back in May we unveiled our project to build a new version of Last.fm. Our goal was to lay the foundation for an online music experience more compelling, accessible, and discoverable than anything that had gone before.
But modernising a service powered by the people since 2002—touching on everything from the core of Audioscrobbler engine to the look & feel—wasn't something we could do alone.
So we turned to you—Last.fm subscribers and users—and wow, you sure came through. Here's a look at the past eight weeks of beta testing:
We've been listening hard, trying out new ideas, and making tons of changes in response to your feedback. Today we've taken the next step in this process, bringing the new Last.fm to everyone.
Turn up the volume and have a look around
For those of you who are veteran Last.fm users, you'll notice we've taken a step back to make our feature set more coherent. Don't worry, we haven't taken much away*, just re-organised.
Along with putting straight our clutter, we've cleaned house too: the user interface has been re-aligned to be a more robust foundation for features to come, and we've updated the look and feel. This is an evolution of the Last.fm interface, and it won't stop developing either—we're inspired by iterative change and dedicated to adapting the service.
Some critical pieces to the Last.fm experience have been added, and a few old pieces dusted and polished. Here's a tour of the new place: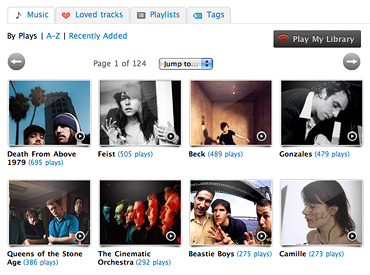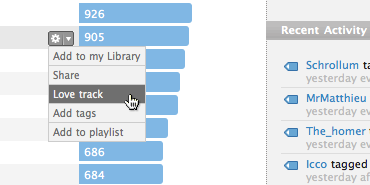 Library
Browse your entire music profile, down to every last play. Add any song or artist with a click. Listen to your library from wherever you are.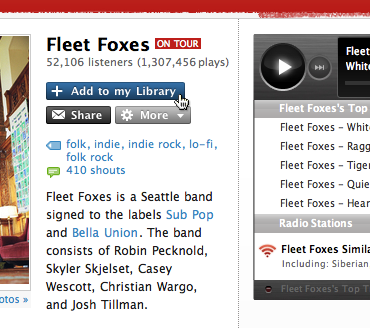 Import your listening history
Sync your iPod / media player when you sign up to last.fm to instantly fill your library. Your profile updates when you sync your iPod / iPhone too!
Instant recommendations
Music recommendations just got way more powerful, and now appear in seconds instead of weeks.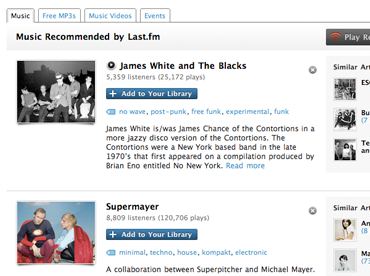 Real-time chart updates
Listen to a song and the charts on your profile immediately reflect the play. The way it should be!
Evident playability
Listen to tracks or radio from a shiny new player, present on almost every page.
Better browsing
Not sure what music or videos to check out? Head over to the all-new Music and Videos pages for some popular and up-and-coming tunes.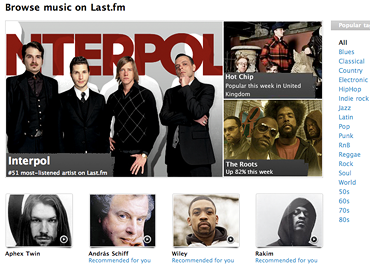 We hope the new Last.fm makes it easier to play, discover, and share great music.
Where's the afterparty?
We're just getting started. There's lots more to come, and you may spot some quirks, so head over to the feedback forums to leave us a comment. This is just the beginning of the new Last.fm platform and we're counting on you to help us make and shape this generation of Last.fm.
—
*A few missing pieces will reemerge, phoenix-like, in the coming weeks. I'm looking at you ;-)