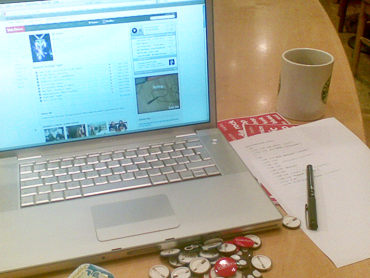 Our new baby, beta.last.fm, has been out of the office incubator for about a week now, and as we feed and water her, we're keeping a careful eye on how she's been getting on in the subscriber enclosure before we release her into the wild.
First up, MASSIVE thanks and 'nuff respect (as the kids say here in London town) to everyone for their feedback, suggestions and ideas so far.
We're always experimenting with loads of ways to help make the Last.fm experience more and more awesome: in-page feedback and commenting, the Last.fm Beta Group, Get Satisfaction, chatting to our mums, impassioned debate over ping pong or in the ball pool; the list goes on. One of the most fun ways, though, is getting out there on the street, face-to-face with people, chatting and finding out how we can make stuff better. So, yesterday, I strode into central London with a laptop, some screengrab software and the promise of free coffee and cake.
Grabbing a seat at the nearest café with wifi, I arranged to meet a few people in the area (long-time users who've been with us for years; new users still discovering what we do; friends and relatives; random people off the street; anyone with a spare twenty minutes, really) to show them beta.last.fm and watch them having a play with it. Loose, informal user testing — or, to use its technical term, 'chatting to and watching people try out our new ideas over some free coffee and cake' — is fascinating, great fun to do, and, combined with our other feedback-recording methods, as I believe Mr. Matthew Ogle, Esq. will discuss, reveals fantastically rich layers of information that really help us improve the Last.fm experience.
Right now, back at HQ, we're working flat out (though, at the time of writing, it is Friday, so we'll be having a few down the Arthur too), mashing all this feedback and observation together to help us tweak, polish and rethink our ideas and plans as we move forward to a public release of beta.last.fm as soon as possible.
Once again, thanks, and big up to everyone for the feedback so far. We're listening to everything, and working directly with your help, so keep keep keep it coming.
PS fidothe, alexmuller, molluskii, camilondon, brooner, and clacaby – pleasure to chat to you today.