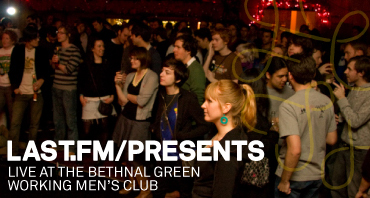 It was our final Last.fm party of the year last night, and we all descended on the Bethnal Green Working Men's Club with a view to causing some pre-Christmas carnage.
Things got off to a pretty mellow start, however. One-man Seattle-based folktronica wizard Black Bear took to the stage armed with just a mic and some laptop-pop backing tracks, and warmed winter-chilled hearts with his tales of love, heartbreak, and, er, bears.
After that, it all started to get weird, as East London's own freeform art-rockers ButtonHead arrived, faces painted, balloons at the ready, and proceeded to blast the crowd with their zig-zagging, uncategorisable punk-jazz-disco. Phew.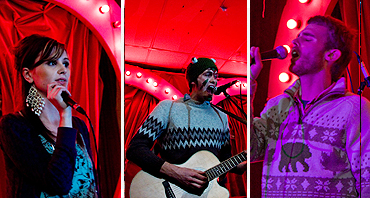 Things got weirder still as iBook "diseuse" ("A woman who is a skilled and usually professional performer of monologues" it says here) George Pringle divided the crowd (as well as everyone here in the office) with her arch monologues drawled over propulsive Garageband beats. She baffled and charmed in equal measure, but one thing's for sure – everyone had an opinion about her. You'll be hearing a lot more about Ms Pringle in 2008, mark my words.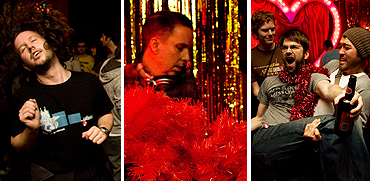 To wrap everything up, a proper turntable legend: Mr Andrew Weatherall. Oh yes. The man behind the sound of Screamadelica, genius remixer of Happy Mondays, New Order and My Bloody Valentine, and producer of great lost '90s classic Morning Dove White, brought the night to a riotous close with a DJ set of dirty rockabilly.
Thanks to everyone who came down, and thanks for being so supportive of our first five live events this year in London. Here's to a few good messy nights of rocking out. Cheers :) We'll be back at it in February with another gig with our friends at the Old Blue Last. Check back closer to for more info.