Today we're launching a new Facebook application: What I'm Listening To. By far the most requested improvement to our first app was having your recently played music on your profile without having to click or interact with the app in any way.
To address the challenge of updating a profile box on Facebook in real time, we developed an extension to our submission system that refreshes your Facebook profile whenever you scrobble a track.
Rather than just release a rehash of some other fine apps already out there, we tried to come up with something extra that would thrive in the scope of Facebook's social graph.
So as well as being able to love tracks straight from your profile, you can now also add a pithy note or limerick to accompany each track you play. This is exclusive to Facebook for now, but we'll be watching this one closely to see how we can appropriately integrate it on Last.fm.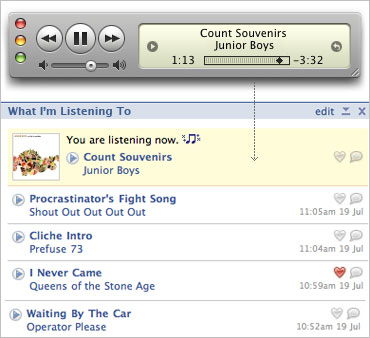 It's taken us a few weeks, but we tried to keep it simple and useful, and sometimes the simplest things require the most thought.
Hope you like it!