Since 1995, Camden Crawl has established itself as the May Day Bank Holiday weekend's hottest ticket, and even though it had competition from the Royal Wedding this year it was a great way of kicking our live series Last.fm Presents into gear for the summer season.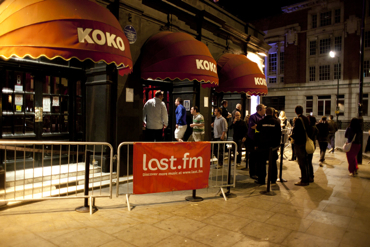 The baroque setting of Koko was the venue for our own stage, treating Camden to a cocktail of seven UK acts rising the Hype Charts. First up was Dinosaur Pile-Up, a band touched by the hand of grunge, whose track "My Rock 'n' Roll" proved a mission statement for the night. Lethal Bizzle is a star of Last.fm's grime tag, and he embraced the spirit of Camden Crawl with a stage dive ahead of indie rockers Mazes, who've featured heavily in our Hype Chart over the past month.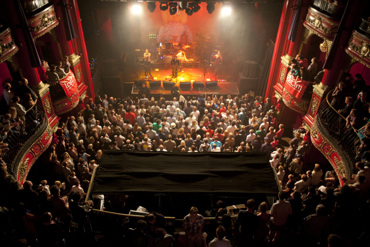 British Sea Power transformed the Last.fm Presents stage into an ode to nature: foliage sprung up as footage of sea birds played. Epic favourites such as "Waving Flags" gained the biggest reception, before the sets took a turn for the electronic with the last two acts.
Simian Mobile Disco proved that knob-twiddling needn't be a static affair, and the crowd agreed – four levels of Koko got down to "Audacity of Huge" and "Hustler"– while Hudson Mohawke excelled as last performer of the evening, his mix of r 'n' b vocals and groundshaking bass making for a warped electro trip into the night.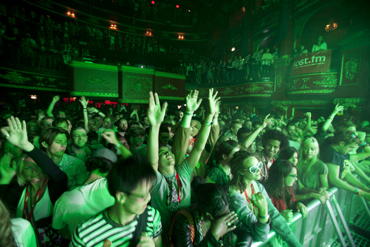 If you're feeling like you missed out on a brilliant night, well, you sort of did. No fear though, Last.fm Presents have a packed festival season ahead this summer.
If you are heading down to (deep breath) The Great Escape, ATP, Liverpool Sound City, Get Loaded, Sonisphere, Rock Werchter, Truck, Field Day, Underage, Summer Sundae or SW4 then keep an eye out for our LFM lobbyists who'll be ready to shower you with Last.fm goodies, including our tag stickers.
It's going to be a great summer!