While most of us stick around to keep the site running (lucky for you!), some fortunate folks among us will soon be heading to Austin for SXSW. If you're also going, say hi to Hannah, Matt, Jonas, Jeff, Lynn or Kevin.
It's probably every music enthusiast's dream to dive into the vast amount of live shows at a festival like SXSW, but with over 1500 performers this year how do you plan 4 packed days (and nights) and not miss what could be your next favorite band?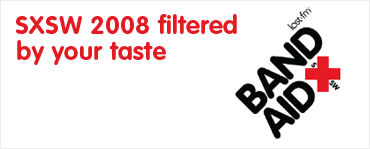 Head over to the SXSW Group page, type in your username and get your very own Band Aid — a list of all the bands you should see (plus some recommendations) based on your music taste.
Join the group for info updates by Austin native, mr_orange_ringo, and don't forget to check back after the festival to see all the 'Tag SXSW' pics that have been uploaded. What's this? Last.fm is tagging up the real world — with stickers! Get them from the last.fm team in Austin.
Enjoy!