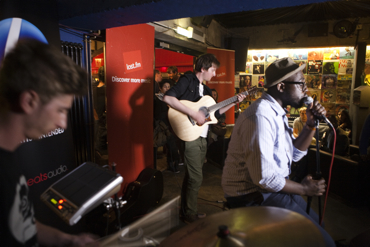 After Ghostpoet's awesome session at The Big Chill Bar on Monday we're pleased to announce that more live music from Last.fm is just around the corner.
In October the Last.fm Presents team kickstart Live Fridays; a showcase of the hottest bands from our Hype Chart on the first Friday of every month, curated by you*.
Our first three shows will come to you from the Relentless Garage in Islington, and we're excited to announce that the first headliner will be CocknBullKid on 7th October.
As an exclusive treat for Last.fm users the first tickets are available now here, before they go on sale to everyone else… If you're joining us then don't forget to mark your attendance on the event page.
Art Brut will be our second headliner on November 4th, and tickets for that show are on sale now too.
We've got more headliners and support acts to announce over the next few weeks, so stay tuned to the Last.fm Presents group page for the latest, or follow Last.fm and Last.fm Presents on Twitter.
* Because each Live Friday lineup is based on artists appearing in our Hype Chart, the music you play directly influences who's going to be on the bill.