A live music experience is such a powerful one, with each person taking moments from a gig that they will enjoy and remember for a long time to come. Some of us go back to see a favourite band or artist time and time again and somehow there is something special and different about each performance.
In the commercial team, which is where I am based, we really enjoy the challenge of pulling some of that spirit into work for relevant and interesting brands. A perfect opportunity to do this arrived with HP who are looking to explore the Power of Sound to help promote their new range of Envy laptops and the sound quality from the incorporated Beats Technology.
So, we're blending the power of the Hype Charts and our expertise in the live arena to pull together some really special events over the new few months, and we want you to join us.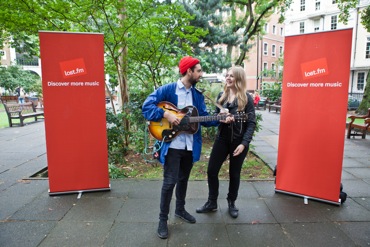 First up we've been on the road chatting to artists at our summer festival shows, asking them about The Power of Sound. The interviews from Liverpool Sound City can be seen here and it features artists as varied as Frank Turner, Akala and Willy Nelson. Each has their own take on the concept, and it's great to hear each artist talk about it in their own unique and diverse way. I can't choose a favourite from this batch but I am still amazed that the Dutch Uncles reference Bon Iver, J Dilla, Frank Zappa and Biggie Smalls all in one video!
The interviews from Get Loaded will be ready in the next few days and we'll be at Sonisphere and SW4 amongst others for more. Keep up to date on new interviews in the radio player (UK only for these I'm afraid!) on our website and on HPUK's Facebook page.
Next up we've got three pop up acoustic sets, all set up with the help of Black Cab Sessions. Our first was with Slow Club in Soho Square, and they were great. They powered on through the rain to sing a couple of songs, including a new one from forthcoming album Paradise. We've got pictures up on our Flickr page, and you can find footage from the set and an exclusive interview here.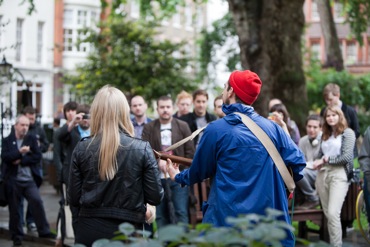 All this is working towards a main gig at the end of summer… but we're keeping details about that one secret for now. What I can say is that a team of passionate people are working on getting a great line-up as I type, and we are all set to make it a fantastic event.
As a little bonus, all of the artists that are taking part in the project will help curate an HP Power of Sound Custom Radio station, which will be ready to launch in a few days. If you want to give some input into the content of the station again please head to HP's FB page.
And last but not least we are delighted to let you all know that we are releasing a Last.fm app for the HP Touchpad which we are sure will get a whole lot more people scrobbling!
Huge thanks to everyone involved in pulling these off. Make sure you keep an eye on our Twitter page for info about the live sets throughout the next few months, and for footage from the sessions!
Wishing you a great summer.