The last time New York saw a 7th of June this hot, the Bowery Ballroom hadn't yet been built. It was 1925, and Delancey Street on the Lower East Side was bustling with energy: this neighborhood was once the most densely populated place on Earth. 83 years later and the Ballroom is legendary – and tonight no less densely populated, as we launch our first ever Last.fm/Presents US live shows, in partnership with The Bowery Presents and a headliner who first appeared on our Hype Chart last August.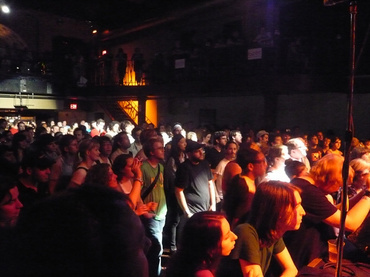 Kicking things off, The Explorers Club slice out guitar solos with the same sincerity they harmonize on every Beach Boys-esque "ooh" and "aah". During "Don't Forget The Sun" (as if we could today!) they croon, "I wish this summer sun could last the whole year long", their voices lulling us like sunstroke's setting in.
Flowers Forever, a recently-formed side project of Tilly and the Wall's Derek Pressnall, takes the stage next under eerie purple-green lights and cut-outs of disembodied heads. Though dense and dark, Flowers Forever's set is shot through with melody, and lifted by lilting vocals that evoke the Omaha scene (think Conor Oberst, Tim Kasher) they emerged from.
Lightspeed Champion follows, and despite an impressive US breakout at SXSW, critical praise for his album Falling Off The Lavender Bridge, and a spot on the Conan O'Brien show the night before, LC's Dev Hynes displays a refreshingly self-deprecating "who, me?" attitude. He weaves between full band accompaniment (including Keith Murray of We Are Scientists on the opening song), solo guitar, and a stint on the keys, indulging in friendly banter with the audience throughout. When a fan calls out for Dev to comment on the finale of Lost, he sidesteps the request, assuring us we wouldn't want him to get into it, and breaks out instead into his trademark Star Wars medley.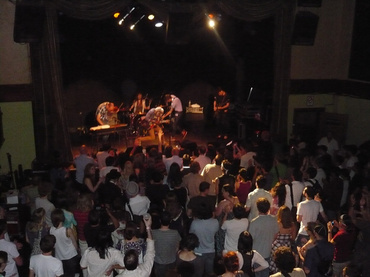 We captured the Lightspeed Champion performance on video, and you'll have the opportunity to see it, along with an exclusive interview of Dev, over at Last.fm/Presents soon. Also, stay tuned for the chance to win a signed gig poster.
Thanks to everyone who made it out to the show last Saturday. Our series of US shows continues on Wednesday July 9th with Fleet Foxes and The Dutchess & The Duke at the Bowery Ballroom. See you there!