I started building webpages at Last.fm in early 2005. In the days of the old Audioscrobbler site, from our glamorous Whitechapel headquarters, the social music revolution was starting to take shape. And I thought I was the one of the lucky few shaping it.
I was wrong.
The first time I sat next to RJ watching our real-time access logs, I didn't recognize half the URLs scrolling past. Instead of profile pages and forum posts, it was screenfuls of recenttracks.rss and artisttags.xml requests. Huh?
"Yeah, those are the webservices. Could be anything, really…"
Anything (and Everything)
Since 2003, we had been operating under a pretty simple premise: Being able to get data out of Last.fm –- whether one person's recently played tracks or community-driven artist and tag info — was as important as being able to put it in.
Five years on, traffic from the incredible wealth of mashups, widgets, and services that leverage Last.fm data matches traffic to our website itself. These applications — contributed by fans, companies, and partners around the world — have literally built the social music revolution. I can take my music profile wherever I go on the net; I can sort my friends by musical compatibility; I can explore interactive graphs and stats; I can scrobble tracks from platforms and devices whose names I can't even pronounce.
build.last.fm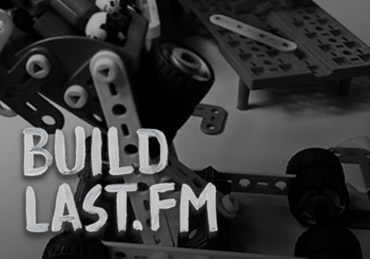 Today we're pleased to introduce build.last.fm, a gallery of apps and services that take slices of the Last.fm experience into tons of cool new directions. We've only just started adding to it, but — with your help, of course — we expect it to grow quickly! (In features too; stay tuned for search, RSS feeds, user comments, and more.)
This is just a small piece of our much larger goal for 2008, which will include a re-launch of our developer site, along with new and improved APIs for some of our most important functionality.
We hope you enjoy checking out all the things you can do with a Last.fm profile. But we're even more excited to see where you'll take the music next. :)
Have you built something too?
We've already added some popular apps to the gallery, but if you can't find your creation, please tell us all about it.