Just over a year ago the Music Information Retrieval team here at Last.fm embarked on a project to see how well we might be able to identify musical characteristics of songs by a process of automatic analysis. Our aim was to fill in some of the gaps left by our existing tagging system.
Last.fm tags make up an astonishing encyclopedia of descriptions, and are a testament to the generosity, knowledge and enthusiasm of our community of users. Together with scrobbles, tags help us power recommendations, radio, and many of the most interesting services that we offer. Although you can make up any tag you like, we noticed that in practice most people use tags that describe genre, or closely related things such as the era or nationality of an artist. On the other hand tags rarely describe the sound of songs in musical terms, and they talk about subjective things like mood less often than you might imagine, given the close connection that most of us experience between music and our feelings about life.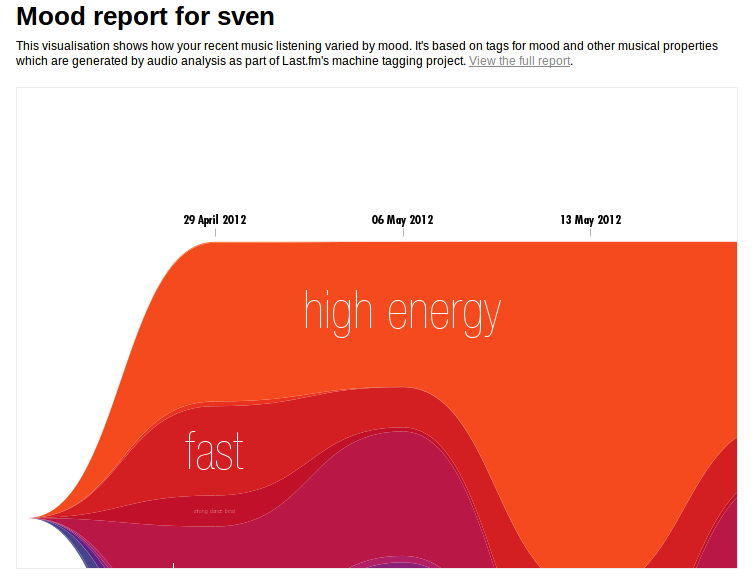 The potential benefits of having a new and separate strand of information about music were obvious, but the big challenge for this project was that existing methods of automatic music tagging simply didn't work very well. Nine blog posts, two published research papers, three public and numerous internal demos, several hack days, and a great many man hours later, we think we're starting to get somewhere, and we'd like to show you some results.
As a first taster we've put together a visualization of your musical mood over the past 120 days, based on automatically computed machine tags for the tracks which you've scrobbled during that time. While individual tags are still far from perfectly accurate, we think that when taken together over all your listening week by week they still paint an interesting picture – one that stands a chance of reflecting real changes in your musical life. Enjoy, and please let us know if you find them interesting!