Today we launched a feature to help you find your friends on Last.fm. It makes finding friends from Facebook or contacts from your email address book super easy. We think a more social Last.fm is a more fun Last.fm, where you can see what your friends are listening to, send them recommendations, compare tastes and more.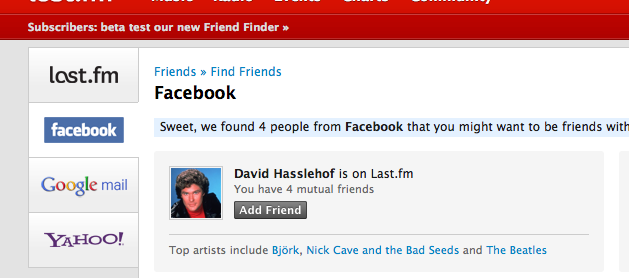 You can find friends from Facebook, Gmail and Yahoo! Mail. We've already had lots of feedback from people that would like Twitter and Hotmail added to that list and we'll be looking at them (and others) in the future. There's also a new feature that will suggest users you might know, based on the friends of your friends.
(If you're a long time user then you might remember we had a friend finding tool some years ago. It had a habit of sending a few too many emails, sometimes in the wrong language and was a bit rubbish.)
Managing privacy has been a priority for us with friend finding; during early testing we unearthed a few secret staff accounts (packed with guilty pleasure scrobbling) and I even found one of my parent's secret test accounts (presumably trying to see what this online music website hoo-hah was all about). In both of these cases the user wasn't expecting to be found, and that's the kind of thing we're hoping to avoid.
It's difficult to strike a balance between privacy and making a useful friend finder, but we think we've found middle ground.



There's a new privacy setting where you can opt out of appearing in results at all.


By default your account will appear in results and a friend request can be sent, but we won't show your username or profile; basically other people will only know that you have an account, not what your account is.


If you then choose to become friends after getting a friend request it's then that they'll get to see your account. Speaking of friend requests…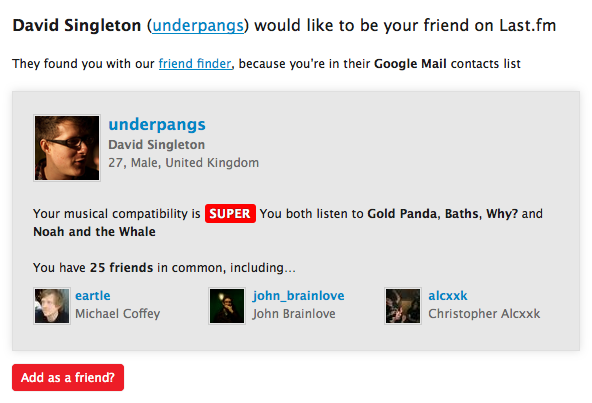 We've also given friend request emails some lovin'; they'll tell you a bit more – like your musical compatibility or which friends you have in common – to help you decide if you want to be friends.
I'm also happy we got this new feature in front of some users to get their feedback and incorporate it into our work at an early stage. Your feedback is invaluable to us and helps us build a better Last.fm for everyone. This is hopefully going to be the start of more regular beta versions of new features, so watch this space.