If you listen to Last.fm radio through the Last.fm desktop client or on an Android phone then you may have noticed that we have just launched a new station: Mix Radio. Mix Radio is inspired by the idea that the best music discoveries can sometimes be made close to home.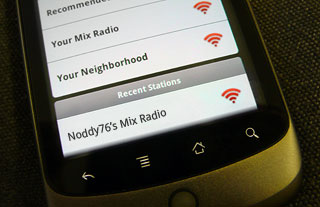 While the pure science of music recommendation puts a heavy emphasis on novelty, Last.fm's incomparable store of data about real listening preferences – as well as our own experience as music lovers – convinced us that it would be interesting to try a different approach. We noticed that listening to all-new music can be a bit heavy going. Similarly, just listening to your old favourites sometimes isn't what you want either! A few shakes of the test tube in Last.fm's radio and recommendations laboratory (known internally as the MIR or Music Information Retrieval team), and Mix Radio was born – a station that's exactly that: a mix of the music you already know + some new recommendations!
The tracks you'll hear on Mix Radio have been selected in three different ways: some are brand new recommended tracks; others are tracks that you haven't scrobbled before, but by artists that you know already; and the rest are simply tracks that you know already. We think that the combination makes a really enjoyable new way to explore Last.fm's recommendations, based as ever on your scrobbles, tags, loves and so on, in the context of more familiar music. Please let us know what you think – we want your feedback as we add Mix Radio to the website and the other Last.fm apps in the near future.
Last but not least, if you're interested in building the next generation of Last.fm radio and recommendation services, we're hiring!