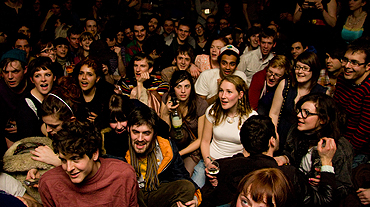 It's Saturday night and the first Last.fm Presents of the year is upon us. Somewhere amid the packed room is Lachlann Rattray of Gay Against You. On stage, his normally bespectacled partner-in-crime Joe Howe fears he has lost him forever. "If you're not me, please sit-down" Lachlann requests (after locating his microphone) in a last ditch attempt to be reunited with his band mate.
It's hot in here. And shambolic. And this is almost what we expected when we decided to ask Last.fm chart toppers Gay Against You to headline our February show. Almost, only better.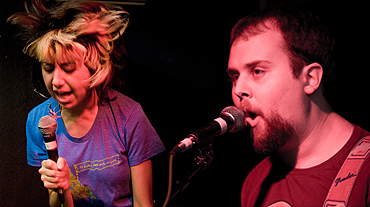 The rest of the line-up are equally as impressive, Pagan Wanderer Lu's cynical songs of everything mundane and Look Look (Dancing Boys)'s insanity-fueled punk mean that tonight is free of drummers and bands of more than two members. In their place we're offered a menu full of bleeps, shouting, dancing and, well, swearing.
The crowd at times don't seem to know how to react to any of it, expressions ranging from bewilderment through to excitement and from awkwardness to all-out enthusiasm fill the sauna-like Old Blue Last.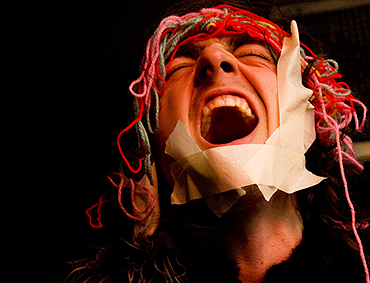 Gay Against You however are the real stars, loud, messy, energetic and all over the place. They prowl the crowd, turning indifference into grins and getting us to sing along. At times, I fear for my life as the floor feels like it might give way under the weight of however-many dancing (and sweating) bodies struggling to stay upright.
As they finish the crowd barely thins, as people opt to stay, dancing their way into the early hours of the morning to the White Heat DJ's indie disco and Tack! Tack! Tack!'s Swedish pop.
Thanks a lot to everyone who came down and made this such a successful night and apologies to anyone whose clothes were ruined by sitting on the floor.