Back in the early zeroes, two of the three founders of Last.fm used to put on events at The Spitz, an East London venue that's been showcasing new bands almost as long as Spitalfields has had a market (which is 369 years, fact fans). Then they got distracted by all this web start-up malarkey.
But yesterday they returned – with the rest of us, plus five amazing bands, our finest Last.fm deck-wreckers, and special guest DJs Hot Chip, who we managed to coax away from the studio where they're finishing off their third album. Altogether, we rocked the place.
Upstairs was a riot of guitar and synth-fuelled mayhem as five of the finest new bands known to humanity (including Everyone To The Anderson, with our very own Matt Hillman on drums) did their thing to an audience of hardcore Last.fm users, music freaks, and the entirety of our office – including a moshing founder or two.
Downstairs, our one-woman Queen of Noize Fiona and Last.fm's Spanish mixmaster Miguel kept the tunes flowing all night – from an amazing playlist drawn from the scrobble stats of all the Last.fm users attending the party (and there were quite a lot of you guys by the end!) Then Hot Chip's Joe Goddard took over and slammed down an hour of genre-mashing tune-age, including two new tracks from the Chip's next album – 'Ready For The Floor' and 'Shake A Fist' – that totally blew up the room.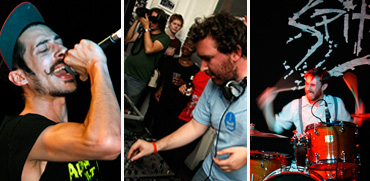 By the end of the night we'd packed the place to the rafters, drank all cold beer in the house (!), and raised a ton of money to help the Spitz find a new home. Not bad for our first ever live event.
The audio from last night now live on the group page, and we'll be posting the video soon so hold tight for more updates! Join the Last.fm Presents group to keep up with future events.
Thanks goes out to Turbowolf, Lost Penguin, Mica Levi and The Cluster, Everyone To the Anderson, and Agaskodo Teliverek for providing some of the best live music we've all seen in ages! And if you're in London and want to throw The Spitz some more love, check out their One Day Punk Blues Festival on Sunday.