We're pleased to announce the release of Last.fm Music, our first (and certainly not last) Facebook app. A big thanks to everyone who suggested features and ideas over the last week… this is only the beginning but we think it will grow into something pretty cool.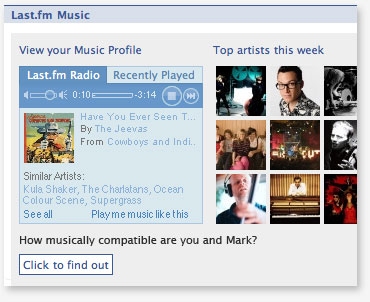 Rapid application development?
Since the launch of Facebook Platform last Thursday, certain parties have been wondering where our application was. The truth is that we were perplexingly left out of Facebook's early development program, so while some of our competitors had six weeks to work on their stuff, we had to wait until Thursday like everyone else. The past six days have included 11-hour flights between London and San Francisco, a bank holiday weekend, and some very late nights pulled by our creative/webteam uber hax0rs… but less than a week later we have something for you to play with.
What it does
For our first release we decided to focus on something that's unique to Last.fm, something that everyone on Facebook can use even without a Last.fm profile: our personalized full-length streaming radio. You can showcase any of your stations (or your playlist) along with recently-played tracks on your Facebook page. If you don't have a Last.fm username, the app creates a station based on the artists listed in your 'favourite music' section. We've also made it easy to see all your Facebook friends' stations on one page, so you can quickly see who's listening now and play their music with a single click. You can even browse new music recommendations and compare compatibility with the Taste-o-meter right from Facebook.
Since you don't even need a Last.fm account to use the app, you can safely pester all your friends to add it. ;)
What it doesn't do
Facebook has built a seriously incredible platform for web developers to work with. As with anything new, though, it's not without some shortcomings. The most serious for us is that it's currently very difficult to put "real-time" information on profile pages without requiring a click. (This is why we have to put your recently-played tracks in a tab for now, sigh.) We know this is less than ideal, and hopefully this situation will improve soon.
We also didn't want to spend too long developing something huge, so we've left our extremely popular concert and events listings out of the mix for now. Fear not, they'll be making an appearance soon enough.
On behalf of the whole webteam: have fun and see you on the brave new Facebook! The music has arrived.